Testing & Validation
Quality plays a major role in ensuring and exceeding customer's requirements at Arani. It is achieved through planned and determined efforts. Our quality management systems are best in class and aligned to best class international standards.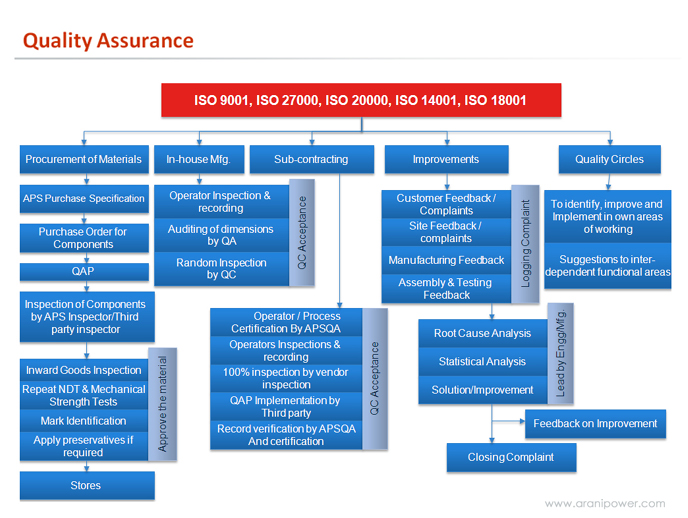 Adequate measures are taken at Arani to maintain quality in every department by most experienced people in industry right from engineering till erection and commissioning at sites.
We develop quality plans for procurement of input raw materials, finished products, manufacturing and erection activities to ensure customer's quality requirements to the fullest extent indicating thestages of involvement by customer or approved agency.
We depute our engineers for inspection of major inputs at vendor's premises. On arrival of items in Arani, we repeat the important checks like ultrasonic testing, magneticparticle testing in order to be doubly sure about the quality of input materials.
Processing in shops is carried out with the help of drawings and technological process sheets. Our operators record the dimensions achieved by them which are counter checked by supervisors and quality control engineers.
The steam turbine rotor and moving blades are manufactured with highly reliable materials and very efficient processes are employed for manufacturing to obtain the best thermal efficiency.
The steam turbine rotor and moving blades are manufactured with highly reliable materials and very efficient processes are employed for manufacturing to obtain the best thermal efficiency. Spectrometer test for PMI (positive material identification) and MPI (magnetic particle inspection) for crack detection are carried out on all finish machined blades which is considered to be highest standard in the industry.
Our quality control equipment include …
Ultrasonic flaw detector to detect internal defects in rotor forging and castings.
Magnetic particle testing equipment to check body and surface cracks
Electromagnetic Yoke to check body and surface cracks on field.
Portable Hardness tester to check the strength of material.
Surface roughness tester to check the surface texture.
XRF Spectrometer to double check the material type.
Zyglo Dye penetrate test kit
Electronic height gauge and granite surface plate.
The turbine rotor is subjected to stage/final dynamic balancing and unbalance mass is corrected to acceptable international standards.
The casings are subjected hydraulic test to assess the soundness of castings. The fabricated items are subjected to various leak proof tests to ensure trouble free operations at sites.
During sub-assembly and final assembly of turbine, the components are verified for their completeness. The fits between various components are checked. The matching of surfaces for leak proof steam and oil joints are ensured. The thermal expansion clearances between the stator and rotor parts are checked and recorded. The bearing clearances, centering and alignment values are ensured before the turbine is released for Mechanical run test (MRT).
The test plant equipped with all modern equipments to carry out the mechanical run test according to international standards. Dedicated Boilers are employed for steam generation for the purpose of shop MRT.
The mechanical run test is carried out by admitting live steam to ensure the stability of governing system, lube oil system, vibration levels,temperatures,over speed tripping, functioning of valves and gadgets, noise levels and freedom from rubbing while operation.
We provide comprehensive documentation package to our esteemed customers enclosing the relevant material test certificates, in process, final assembly clearances, alignment readings and mechanical test records.
At Arani we are geared up to consider any special quality requirements of customers for trouble free, sustained and reliable turbine operation by continuously upgrading the products , systems and services.
Chairman & Managing Director
Shri Prabhulingeshwar Sugars & Chemicals Limited